THURSDAY 4 - SUNDAY 7 JANUARY 2018
THAILAND'S #1
MARINE & LUXURY
LIFESTYLE SHOW
ROYAL PHUKET MARINA • PHUKET • THAILAND
THE PHUKET RENDEZVOUS
>
ISSUE 10
>
DECEMBER 2017
Less than one month to go before the PHUKET RENDEZVOUS and we are delighted to welcome a fleet of six PRINCESS YACHTS under BOAT LAGOON YACHTING to the inaugural event, whilst the world-famous ELEPHANT PARADE comes to Phuket for the first time.
As we head into the final month before the first ever PHUKET RENDEZVOUS, the marina is almost full and new exhibitors are being confirmed daily in the Exhibition Hall. PRINCESS YACHTS SOUTHEAST ASIA, represented in Thailand by BOAT LAGOON YACHTING, has announced that they will showcase six of their newest models - including two Asian premieres - in the marina. We are also delighted to confirm leading brokers MULTIHULL SOLUTIONS and NORTHROP & JOHNSON who will be taking prime space on C-Dock and L-Dock respectively. More to follow in a future issue!

In the Exhibition Hall, CHIAL LTD. will be promoting ATOMIC #8, the latest must-have health supplement for those who like to work hard and play hard. Chiang Mai-based MANDARA FURNITURE will display their beautiful range of custom-made tables whilst international couturier SABINA FAY BRAXTON will showcase her one-of-a-kind fabrics.

Priding ourselves of being Thailand's favourite yacht show, the PHUKET RENDEZVOUS team is very excited to present the internationally renowned ELEPHANT PARADE for the first time ever in Phuket. Located throughout ROYAL PHUKET MARINA, visitors will love the wonderful and colourful life-sized baby elephant models, painted and designed by Thai artists and celebrities - the perfect photo opportunity for all the family to enjoy!

With an ever-growing list of food and beverage pop-ups, including the iconic PIPER-HEIDSIECK, and a full SEMINAR PROGRAMME soon to be announced, make sure you don't miss what will surely be Thailand's definitive marine and luxury lifestyle show!
ELEPHANT PARADE
SOCIAL ENTERPRISE PARTNER
The PHUKET RENDEZVOUS is pleased to bring the world-famous ELEPHANT PARADE to Phuket for the first time! ELEPHANT PARADE is a social enterprise which runs the world's largest art exhibition of decorated elephant statues.
The elephant is Thailand's national animal and each ELEPHANT PARADE is designed to raise awareness and inspire people to ensure these intelligent animals' survival and well-being. Created by artists and celebrities, each ELEPHANT PARADE statue is a unique art piece. As well as the 20 life-size baby elephant models on display, ELEPHANT PARADE will have their own shop in the Exhibition Hall, with plenty of attractive merchandise and smaller replica models to purchase. Visitors will be able to sign in for a workshop where they can paint a small replica elephant, helped by professional artists. There will also be a model elephant painting competition for kids. "ELEPHANT PARADE is pleased to be the Social Enterprise Partner of the PHUKET RENDEZVOUS and we look forward to being a part of this great event." said Mike Spits, Founder and CEO.

At the end of the show, there will be a auction of the statues with 30% of the sales value being donated to elephant welfare and conservation projects. Be part of it and let's paint a brighter future!
BOAT LAGOON YACHTING
Taking four berths in E-Dock and two berths in L-Dock, BOAT LAGOON YACHTING is one of Asia's largest and most reputable yacht importation, distribution and after-sales service organisations, representing some of the world's most prestigious yacht brands.
BOAT LAGOON YACHTING offers one of the most extensive after-sales service and yacht maintenance facilities in South East Asia and has represented PRINCESS YACHTS in South East Asia since 1995. Epitomsing the best of British manufacturing, PRINCESS YACHTS' reputation for design, engineering and manufacturing excellence has earned the company global appeal and established it as a truly international brand. Situated in E- and L-Docks, PRINCESS YACHTS SOUTHEAST ASIA will showcase six models, including two Asian premieres, the Princess P62 and Princess S65. Visit berths E9 - E12 and L3 - L4 to find out more!

► LEARN MORE
PRINCESS YACHTS

Princess P62




19.35m / 63' 5"

The all-new Princess P62 encapsulates their meticulous design ethos and all the benefits of the latest infusion technology, enabling the inclusion of features normally possible only on much larger craft. Her flybridge inspires relaxation with a large dining area, a sunpad aft and a circular forward seating area that can be converted into an additional sunpad.
PRINCESS YACHTS

Princess S65




20.14m / 66' 10"

There is an undeniable presence about the S65. Her slender streamlined form somehow also exudes a predatory air. A lightweight deep-V hull delivers with breath-taking agility up to 38 knots. Her sociable galley aft arrangement, with opposing open-plan dining area, has sliding doors leading out to the cockpit to create an al fresco bar.
PRINCESS YACHTS

Princess 75MY




27.70m / 80' 9"

The ingenious design of the 75 Motor Yacht offers efficient, agile cruising, enabling you to plane at lower speeds. Her deck layout provides you with a variety of options to entertain or relax, including a walkthrough foredeck with U-shaped seating and sunbathing area. The flybridge has space aft for free standing furniture or to fit a crane and store a tender.
PRINCESS YACHTS

Princess V39




12.98m / 42' 6"

Fast, agile and spacious, the V39 is a stunning return to this size range for Princess and a compact sports cruiser for those who still demand the very best in style, performance and quality. The very latest Princess hull design ensures she is both exhilarating and economical with quick transition to plane and a wide range of efficient cruising speeds.
PRINCESS YACHTS

Princess 68




21.25m / 69' 9"

The Princess 68 is a breathtakingly beautiful craft. Her spacious flybridge includes a large sunpad, twin helm and a wetbar for on-hand refreshment. On deck she provides ample entertaining space with both cockpit and foredeck seating and an inviting sunbathing area whilst out at seafeels light and responsive all the way up to 30 knots.
PRINCESS YACHTS

Princess 78MY




24.10m / 79' 1"

The Princess 78 Motor Yacht is designed for the discriminating seafarer. Spacious enough for uncompromising comfort and powerful enough to span vast distances, this elegant work of nautical craftsmanship includes four en suite rooms and entertaining areas. Aboard, guests can enjoy beautiful backdrops of oceans and islands.
CHIAL LTD. | ATOMIC#8
The PHUKET RENDEZVOUS team would like to introduce ATOMIC#8, the latest must-have health supplement for those who like to work hard and play harder!
ATOMIC#8 by CHIAL is an easy portable oxygen solution that is fast becoming a part of people's daily health habits against air pollution and increasing related diseases. Its simple yet unique formula cleans pathways and help internal mitochondria to release oxygen time and again inside our bodies. Find out how ATOMIC#8 can benefit you at Booth 4!

► LEARN MORE
MANDARA FURNITURE
Based in Chiang Mai, MANDARA FURNITURE specialise in creating limited, rare and unique customised tables using artistic techniques few in the world are capable of.
MANDARA FURNITURE's master craftsman have spent years learning the art of producing such fine quality exclusive pieces. By sourcing only the finest quality salvaged timbers and using the most exquisite materials, each table is a one-of-a-kind masterpiece, produced with techniques that only a handful of craftsmen in the world can replicate.

If you're looking for your dream table, visit MANDARA FURNITURE at Booth 14 and check out their selection of rare, beautiful and unique pieces.

► LEARN MORE
SABINA FAY BRAXTON
Fashionistas and couturiers rejoice! Are you looking for authentic, unusual, one-of-a-kind fabrics for your interiors? The PHUKET RENDEZVOUS is delighted to introduce Paris and Ireland-based SABINA FAY BRAXTON, who will add an extra dimension to your home.
Known for her exuberant extrapolations of ancient hand-printed textile techniques, SABINA FAY BRAXTON has been creating fabrics for renowned interior designers and an array of discriminating private clients for over two decades. Ranging from such designers as Christian Lacroix, Valentino and Armani, her clientele also includes celebrities, such as Catherine Deneuve and Dumbledore himself from the Harry Potter films. Check out her range of unique fabrics at Booth 16!

► LEARN MORE
PIPER-HEIDSIECK
FOOD & BEVERAGE PARTNER PIPER-HEIDSIECK, one of the world's most iconic champagne, has had a long connection with the fashion and luxury lifestyle world since its inception, including a collaboration with the world-famous jewellery brand, Van Cleef & Arpels, to design a bottle. Over the years, PIPER-HEIDSIECK also partnered with a succession of top designer brands, such as Jean-Paul Gaultier and Christian Louboutin and is honoured as the official drink for both the Cannes Film Festival and the Academy Awards.

www.piper-heidsieck.com
LUXUO.COM
MEDIA PARTNER LUXUO.COM is an online portal covering all kinds of luxury items, from estates, boats and watches, to the most expensive gadgets. LUXUO.COM brings together news, events and product announcements, spreading luxury and everything encompassing it on the Internet, such as grand estate, supercars, yachts and diamond encrusted watches; anything which exudes affluence. LUXUO.COM has recently hit the milestone of one million unique visitors per month, clearly putting LUXUO.COM in the lead over other channels providing luxury news on a daily basis.

www.luxuo.com

CHRISTOFLE YACHT STYLE AWARDS
In celebration of its 10th anniversary and the inaugural edition of the PHUKET RENDEZVOUS 2018, industry trend-setters Yacht Style will be launching the CHRISTOFLE YACHT STYLE AWARDS that recognises the best of the maritime industry in Asia and internationally. The CHRISTOFLE YACHT STYLE AWARDS will place Phuket at the very centre of Asia's yachting scene in early 2018!

■ LEARN MORE ■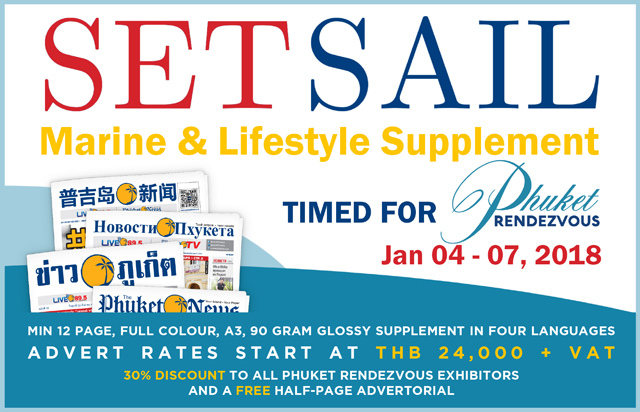 LATEST NEWS

23.11.2017


DAVID KING WINS LIFETIME ACHIEVEMENT HONOUR
* First published in Asia-Pacific Boating

David King, Co-Founder of Princess Yachts, has been given the accolade of Lifetime Achievement at the Boat Builder Awards. The award, presented at the National Maritime Museum in Amsterdam, tops a successful year for the British yacht-maker. Princess reported order books reaching a record-breaking €0.73 billion in retail value following the Cannes Yachting Festival in September...

► LEARN MORE
LATEST NEWS

01.12.2017


LEE MARINE SELL CUSTOM LINE'S NEW NAVETTA 33
* First published in Lee Marine

Five superyacht Custom Line's Navetta 33 were sold before its initial launching in Ancona mid June this year. Lee Marine, attending Cannes Yachting Festival 2017 last month, added another sale of the new Navetta 33m (108.3 ft.) yacht to an Asian owner. The Custom Line's semi-displacement superyacht delivers top performance of its class in terms of seaworthiness and stability with a range of 1850 nautical miles...

► LEARN MORE
THAILAND
Andrew Dowden
t: +66 (0) 81 892 7670
Email

Piyawan Songsawas
Thai / English
t: +66 (0) 89 890 9423
Email

ASIA
Nico Monges
t: +66 (0) 80 143 4380
Email